On 27 April 2022 ZimWorX team undertook a familiarization tour of 2 centers in Mufakose and
Kuwadzana run by Uncommon.org, a non-profit founded by Peter Kazickas. In line with our passion of
making a positive impact globally, the thrust was to investigate how ZimWorX can partner with
Uncommon to bring an impact to these communities.The centers, popularly called Innovation Hubs train and equip unemployed young adults with free
education programs that launch them into the technology industry. Students take crash programs in
design, coding and marketing before they choose a track they want to pursue further in their studies.
After classes some of the students volunteer their time to teach coding to other primary school and high
school students. The Innovation hub in Mufakose was an old storeroom the team converted into a hub.
It can accommodate up to 40 students and the one in Kuwadzana is made from an old container
renovated into a classroom and office, it accommodates up to 20 students.
Uncommon provides all the necessary resources for the students. This includes items such as laptops,
internet, stationary and desks. The shipping containers operate 100% on solar energy making them eco-
friendly.
Possible partnership areas include:
– Mentorship program between ZimWorX team members and Uncommon students.
– Funding towards purchase and renovation of containers.
– Provision of laptops.
– Recruitment of Uncommon graduates.
– Career guidance talks and trainings by ZimWorX team members to Uncommon students.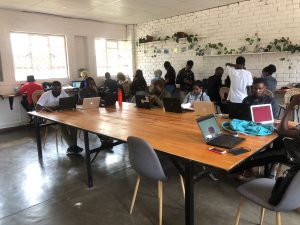 Well done to Peter and his team! Looking forward to working with you in the near future!